A Word From Pastor Lauren Godwin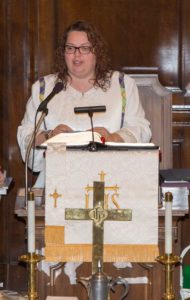 "And I give unto them eternal life; and they shall never perish,
neither shall any man pluck them out of my hand."
John 10:28
Greetings in the name of our Lord and Savior Jesus,
Fall is my favorite season! I love watching the color on the leaves change and feeling the temperatures begin to fall. I am also very guilty of loving everything pumpkin, especially pumpkin spice lattes! As a child, I loved that school started in this season and marked the beginning of a "normal" schedule at church and home. That remains true as an adult. Things become more routine as we return to our Fall schedules with school, community activities, family and church life.
As we welcome a new season, it is a perfect time to try new things in our life and routine. This Fall, I would like to invite you to attend a Bible Study on the Apostles' Creed. The Apostles' Creed is one of the oldest symbols in the church and it helps us to express our basic core beliefs. Although most of us have learned the creed at some point in our life, we may not know the depths of its meaning, especially for the early Christian communities. It is an ancient symbol and tradition that can transform our lives as we get back to the "normal" life that this season of change brings.
In addition to the Bible Study, I will be preaching a sermon series based on the Apostles' Creed. This is the perfect time to invite someone new to join us for worship! It will be a refresher in the basics of our Christian faith and hopefully an introduction for some of the guests you will invite to join us. We can all learn and grow together as we explore what the Apostles' Creed means for each of us in the 21st Century!
In God's Grace and Peace,
Pastor Lauren